I was given two solid pieces of advice by a horse breeder that I'll never forget; don't bet on horses and never give tips. She would probably say the exact same if she was an MMA fan, as that can be just as seemingly random as horse racing.
Both men show a lot of similarities; slow to start in Round 1, serious power in their right hands, good ground and pound, hate the back foot. Both men also prefer fighting orthodox so it looks like it will be a closed guard matchup. Of the two men, Uriah Hall possess the deeper bag of tricks (we probably won't see a shoulder crank but you never know) and Sean Strickland possess the durability of a zombie so less discuss their keys to success at UFC Fight Night: Hall vs. Strickland.
Keys Sean Strickland's success
One of the tendencies Uriah Hall never dropped is his approach when his back is to the fence. He does Golden Age era Anderson Silva impression then circles out with his hands down, into a left hook. Hall was pressured to the fence in the fight with Jotko and got caught there for the better part of the first round. Hall is a slow starter, he often flicks out the jab as a feint but rarely does much with it. He displayed a hard jab against Costa and fought his way off the fence with some knees from the clinch but ultimately got swarmed along the fence.
Bevon Lewis had good results smothering Hall's hands against the fence and in the center of the Octagon. Strickland does this on occasion so it may be something useful to him. We see it very seldom from Strickland but some body work would serve him well along the fence, much like Costa's performance opposite Hall.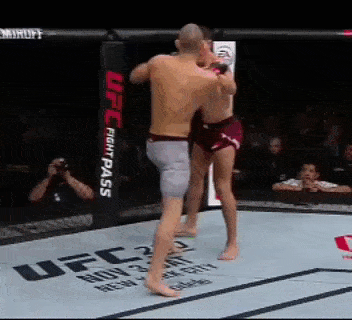 Strickland is pretty great at catching punches, so pitching them back at Uriah is a good move. Gegard Mousasi had great success on the ground in both of their fights and applied ground and pound liberally. Hall is at his best in the middle of the Octagon, where he does get clipped with left hooks and jabs but other than looks well. Robert Whittaker's success in their fight came from landing blows from grappling exchanges. So really the gold standard plan for Strickland would be to start early (which can be difficult for him sometimes) get Hall to the fence and keep him there. Either pour it on him standing or drag him to the matt.
Key's to Uriah Hall's success
Strickland fights out of the orthodox stance, I've watched all of his fights since 2016 and he has not changed much other than the fact that he kicks a bit and he's pretty defensively savvy on his back. He has a good 1-2, with solid power in his right hand, and a good left hook. He smothers the lead hand and catches punches with his shoulders. He doesn't care about kicks and just absorbs them or tries to catch them and drag them across his opponents body. Of all the fights I've watched of his he only timed it once and scored a trip on Brendan Allen. He gets comfortable in the first and gets a finish if his opponents get tired and then he puts his foot on the throttle and swarms them with punches.
Uriah Hall can use Strickland's appetite for lead legs kick to full effect. I watched a lot of tape on Strickland for this breakdown and he barely checks anything or he tries to scoop the kick. Taleb did not really have much of an answer when it came to the hands but he teed off on Strickland's lead leg at will almost. A cheeky calf kick into a question mark kick might be an idea as Hall does have the variety in his arsenal to pull it off.
Strickland is also solid when he is pushing the action, probing for an entry and then once he finds it he lets his hands fly. On the backfoot though he does not have much in the way of offence and often leaves the pocket on a straight line. Hall could definitely find a home for the overhand right if he sets it up with a combination but it really depends on what stance Uriah fights out of for this one. Kamauru Usman set up the overhand right well when he faced Strickland but the height difference would often result in Usman clipping his shoulder instead, same goes for Jack Marshman. Brendan Allen, probably the only fighter to ever have a height advantage over Strickland, landed a clean overhand right a few times during their bout.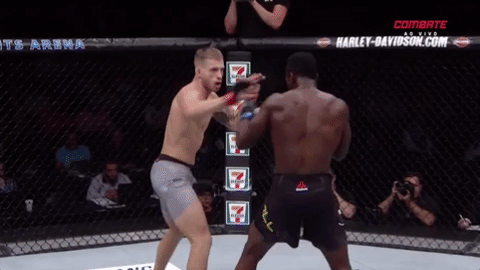 Uriah's right hand is quiet versatile, whether it a hook, a straight, or an overhand. He can even catch his man going backwards.
Strickland often shells up and protects himself with his right arm, which is also a his good one. Hall could mix his kicks upstairs on and downstairs, slowing Strickland's movement and damaging his best weapon at the same time. Uriah Hall is a combination of solid strip mall Karate and an absolute shotgun blast of a right hand, if he can establish the distance and the pace on his terms he may even score a finish.
Then again, the only time Strickland was finished was against Uriah Hall's signature move, rarely does anyone throw anything unpredictable Strickland's way and Uriah has a serious toolbelt. If a fight goes on long enough, Uriah will throw the kick (for brand management purposes at this point I suppose).
COPA COMBATE: Brackets Announced For One-Night Tournament, $100,000 on the line
Combate Global today announced the official brackets and first, or quarterfinal stage, matchups for its coveted "COPA COMBATE" one-night, eight-man, $100,000 grand prize bantamweight (135 pounds) tournament on Sunday, Dec. 12, live on Paramount+ from Miami, Fla.

Paramount+ live coverage of "COPA COMBATE" will begin with a pre-show at 9:30 p.m. ET/8:30 p.m. CT, and will continue with the live fight action, beginning at 10:00 p.m. ET/9:00 p.m. CT.

In one bracket, Carlos Briseño (13-2) of Mexico will face off with Cristian "El Scorpio" Barraza (7-3) of Chile, and Frans "The Zulu Irishman" Mlambo (10-5) of Ireland will battle Jose "The Mercenary" Zarauz (22-8-1) of Peru.

In the opposite bracket, Leo Muniz (6-1) of the U.S. will square off with Pierre "The French Hawaiian" Daguzan (6-5) of France, and Kevin Cordero (12-2) of Spain will collide with Luciano "El Aguila" Ramos (8-6) of Argentina.

The winners of the two quarterfinal bouts in each bracket will square off with each other in the semifinal stage of the tournament, and the two semifinal stage fight winners will face each other in the championship stage of action.
Carlos Briseño vs. Cristian Barraza

The 31-year-old Briseño of Mexico City holds a black belt in Tae Kwon Do, and is a member of the Bonebreakers fight camp.  He enters La Jaula, the Combate Global competition cage, on a two-fight win streak after earning a unanimous decision over Adam Martinez in what was Briseño's Combate Global debut on October 1.

The 28-year-old Barraza of Santiago is a Brazilian Jiu-Jitsu brown belt who has notched all 7 of his professional career wins by way of submission.  He is coming off of a first round (2:01) armbar submission of Mexico's Diego Silva on October 22.

Frans Mlambo vs. Jose Zarauz

Mlambo, a 30-year-old protégé of famed trainer John Kavanagh and former International Mixed Martial Arts Federation (IMMAF) world championships gold medalist, will become the first fighter in history to represent Ireland in the "COPA COMBATE" tournament.  To date, Mlambo has produced 8 of his 10 career wins via (T)KO or submission, and will enter "COPA COMBATE" on a two-fight win streak.

Fighting out of Lima, the 28-year-old Zarauz holds the most professional experience of any of the "COPA COMBATE" tournament entrants, and will enter La Jaula for the second time in 2021 after securing a unanimous decision win over Fernando Noriega in a regional event in Peru on July 17.

Leo Muniz vs. Pierre Daguzan

The 31-year-old Muniz is a resident of Tobyhanna, Pa. and a native of The Bronx, N.Y.  He put together back-to-back victories over Team Alpha Male member Hector "El Matador" Fajardo on May 29 and August 13, respectively, to secure an entry to "COPA COMBATE."

At 35 years of age, Daguzan, a native of Versailles, Yvelines and resident of Honolulu, Hawaii, is the eldest competitor in the tournament field.  He holds a purple belt in Brazilian Jiu-Jitsu, and is coming off a unanimous decision win over Carlos Puente, Jr. in Combate Global action on July 16.

Kevin Cordero vs. Luciano Ramos

The 22-year-old Cordero of Las Palmas, Gran Canaria, is the number one pound-for-pound rising star out of Spain, and the youngest of the eight tournament entrants.  He has claimed 9 of his 12 professional wins via (T)KO or submission, including his last start and Combate Global debut on September 3, when he produced a first round (4:59) submission (triangle choke) of veteran battler Ricky Bandejas.

Ramos is a 25-year-old finisher who hails from Concordia, and who relocated to Stockton, Calif. last year in order to train with the team founded by famed MMA siblings Nick and Nate Diaz.  Since making the leap to the Diaz camp, Ramos, who has achieved six of eight career wins by way of (T)KO or submission, has been victorious in both of his MMA bouts in 2021, most recently defeating Keilen Fantroy via first round (1:54) submission (triangle choke) on July 31.

In two previously announced women's bouts that will be featured on the "COPA COMBATE" card in addition to the tournament, Criszaida Adames (5-1) will throw down with Caroline "Taz" Gallardo (5-4) at strawweight (115 pounds), while Lucero "La Loba" Acosta (2-2) will square off with Rosselyn Chavira (1-0) at flyweight (125 pounds). 

The tournament will also be supported with two "reserve" bouts.  Should any of the tournament's quarterfinal stage winners be unable to continue his bid in the semifinal stage due to injury, the winner of one of the tournament reserve bouts will replace the injured winner in the tournament's semifinal stage.  

In one tournament reserve bout, Felipe "Pipe" Vargas (7-2) of San Jose, Calif. via Bogota, Colombia will take on unbeaten Diego "El Niño" Gomez Manzur (4-0) of Santiago, Chile and, in the second tournament reserve contest, Ricky Bandejas (14-6) of Brick, N.J. via Coconut Creek, Fla. will face Alan "Beche" Cantu (9-7) of Monterrey, N.L., Mexico.
Jose "Froggy" Estrada headlines Combate Global Dec. 3 show against Martin Bravo
Combate Global today announced a six-fight Mixed Martial Arts (MMA) event, live on Paramount+ on Friday, Dec. 3 from Miami, Fla. In the featherweight (145 pounds) main event, hard-hitting American star Jose "Froggy" Estrada (7-2) will square off with The Ultimate Fighter: Latin America 3 reality television series winner, Martin "El Toro" Bravo (12-3).
 
The 30-year-old Estrada of Oxnard, Calif. secured his career-best victory to date on July 2, defeating seasoned Nicaraguan star Leonardo "Chimmy" Morales by way of majority decision.
 
The result marked Estrada's only victory to date that has gone to the judges' scorecards.  All six of his other wins have come via (T)KO or submission within two rounds of action.
 
Hailing from Rosarito, B.C., Mexico and fighting out of Newton, N.J. the 28-year-old Bravo made his Combate Global debut in 2021, scoring a first round (1:09) TKO (punches) on veteran Andrew "The Beast" Whitney on September 17.
 
In a featured strawweight (115 pounds) contest, Stephanie "Macaquinha" Frausto (8-8) of Dublin, Calif. will face Camila Rivarola (3-3-1) of Montevideo, Uruguay via Stockholm, Sweden.
 
The other featured main card bout will pit Tommy "The Spaniard" Aaron (9-5) of Los Angeles, Calif. against Ivan "Choko" Castillo (21-13) of Ensenada, B.C., Mexico at welterweight (170 pounds).
 
In preliminary card action, Jonathan Sepulveda (9-3) of Isabela, Puerto Rico will throw down with Adrian Garcia (6-1) of Miami, Fla. at a catchweight of 130 pounds.
 
"Slick" Rick Zelada (1-0) of Los Angeles will meet Gustavo "Volcan" Navarrete (0-1) of Chandler, Ariz. at bantamweight (135 pounds).
 
Elizabeth Avila (0-2) of Mexico City, Mexico will look for her first professional victory in an atomweight (105 pounds) fight against Tamika Jones (0-0) of Las Vegas, Nev.
Paramount+ live coverage will begin with a Combate Global pre-show at 10:30 p.m. ET/9:30 p.m. CT, and will continue with the live fight action, beginning at 11:00 p.m. ET/10:00 p.m. CT.
 
Sergio Pettis looking to follow in his brother Anthony's footsteps and earn two belts
Sergio Pettis won the Bellator Bantamweight World Championship belt opposite Juan Archuleta back in May. He will defend his belt for the first time against Kyoji Horiguchi at Bellator 272 on December 3rd.
The younger Pettis has big plans and wants to match his brother's legacy. Anthony Pettis captured WEC and UFC in his long and storied career, but Sergio feels there is space on the mantel place for a belt from an Asian promotion (he spoke to MMA Fighting about the defense and his dreams).
"I think it would be a great opportunity for me to cross-promote," Sergio Pettis said of an overseas move. "Anthony has a WEC belt and a UFC belt, and it would be awesome to have a Bellator belt and Rizin belt as well, to have all the belts in all the organizations – it would feel like a completion."
Horiguchi has done some cross promotion with Bellator and actually took the belt from Darrion Caldwell before vacating and going back to Rizin. In Sergio's eyes he holds the true belt because The Gooch injured his knee and could not defend the Bellator belt and by the time he healed up he was back in Rizin again. This is a welcome fight for Pettis who feels this fight will be the capturing of the true belt.
"I feel like the title in general is on the line. I think this is a fight where it's really going to show who has the real championship in my division."
The Rizin belt isn't on the line, but Pettis does not rule some cross promotion at Flyweight or Bantamweight.
"It would be an honor to go overseas and get that opportunity," he said. "But as of right now, my main focus is next week. I'm not looking ahead of Horiguchi at all. This is one of my toughest fights."