Sergio Pettis won the Bellator Bantamweight World Championship belt opposite Juan Archuleta back in May. He will defend his belt for the first time against Kyoji Horiguchi at Bellator 272 on December 3rd.
The younger Pettis has big plans and wants to match his brother's legacy. Anthony Pettis captured WEC and UFC in his long and storied career, but Sergio feels there is space on the mantel place for a belt from an Asian promotion (he spoke to MMA Fighting about the defense and his dreams).
"I think it would be a great opportunity for me to cross-promote," Sergio Pettis said of an overseas move. "Anthony has a WEC belt and a UFC belt, and it would be awesome to have a Bellator belt and Rizin belt as well, to have all the belts in all the organizations – it would feel like a completion."
Horiguchi has done some cross promotion with Bellator and actually took the belt from Darrion Caldwell before vacating and going back to Rizin. In Sergio's eyes he holds the true belt because The Gooch injured his knee and could not defend the Bellator belt and by the time he healed up he was back in Rizin again. This is a welcome fight for Pettis who feels this fight will be the capturing of the true belt.
"I feel like the title in general is on the line. I think this is a fight where it's really going to show who has the real championship in my division."
The Rizin belt isn't on the line, but Pettis does not rule some cross promotion at Flyweight or Bantamweight.
"It would be an honor to go overseas and get that opportunity," he said. "But as of right now, my main focus is next week. I'm not looking ahead of Horiguchi at all. This is one of my toughest fights."
Matchmaker Monday | what's next after UFC 276?
The premier event of International Fight Week, UFC 276, has come and gone. The card saw contenders emerge and champions showcase their dominance. Now, Matchmaker Monday is here and it's time to see what's next for the winners and losers.
DISCLAIMER: this is purely opinion based, feel free to disagree!
***
(c) Israel Adesanya (23-1) – UFC middleweight champion
It was another shutout performance from defending middleweight champion Israel Adesanya. Though it may not have been the exhilarating finish that was promised, 'The Last Stylebender' found the path to his fifth title defense on the scorecards. The next challenger for the champ is known by the masses, and that is Adesanya's old foe Alex Pereira. Not only does it present an dangerous stylistic matchup for Adesanya, the history between the pair will create fireworks in the build up. We could be in for an amazing fight with this one.
(#2) Jared Cannonier (15-6) – UFC middleweight contender
The first UFC title shot of contender Jared Cannonier has come and gone. An lackluster performance from the Texas native has surely left a bitter taste in his mouth. At 38 years old, a second shot at the belt is unlikely, so Cannonier will need to make a statement to reestablish himself. The division is somewhat tied up in fights, but a main event against the winner of Jack Hermansson vs Darren Till would be a fun fight & another name for his resume.
(c) Alexander Volkanovski (25-1) – UFC featherweight champion
Is there a hotter fighter than Alexander Volkanovski after UFC 276? The champ put a decisive end to his rivalry with Max Holloway with a brutal display of speed and aggression in their co-main event title fight. Though he's open to defending his title more against the contenders of 145lbs, Volkanovski is eager to get back to action against the best competition. He called for a vacant title fight at lightweight with former champ Charles Oliveira, and I'm all for it. Two pound-for-pound elites fighting for a world title? Sign me up!
(#1) Max Holloway (23-7) – former UFC featherweight champion
It may not be his first, but this is definitely the toughest loss in the storied career of Max Holloway. His third loss to the reigning champ has essentially locked the former titleholder out of the title picture for the forseeable future. A lot of Holloway's future will depend on what Volkanovski chooses to do next, but if the pride of Hawaii is staying at featherweight, I think that Josh Emmett makes sense. It would be a fresh face for Holloway and a chance for Emmett to explode into the top contender status. It isn't a solid pick, but I wouldn't be opposed to it at all.
Alex Pereira (6-1) – UFC middleweight contender
The power of Brazil's Alex Pereira was on full display over the weekend, picking up a first round knockout over Sean Strickland. In only 9 months, the former GLORY double-champ has put himself into title contention. There is only one fight for 'Poatan', and it has to be against champion Israel Adesanya. Given their history in kickboxing and their competitive rivalry, this could be one of the most important title fights at 185lbs in recent years.
(#4) Sean Strickland (25-4) – UFC middleweight contender
The decision to stand and bang with Pereira was a regrettable decision for Sean Strickland, leaving him with his first ever loss at middleweight. This certainly hurts Strickland's chances at earning a title opportunity, but all hope is certainly not lost. Someone else in need of a win at 185lbs is Kelvin Gastelum, a former title challenger with fast hands and an exciting style. I could definitely see these two contenders in need of a rebound win facing off later in 2022.
Bryan Barberena (18-8) – UFC welterweight contender
The legend-killing streak of Bryan Barberena continued on Saturday night, becoming the first man in six years to finish Robbie Lawler with strikes. 'Bam Bam' has quietly built a three-fight run and is now potentially knocking on the door of the top 15. It wouldn't quite break him into the elite, but a scrap with Andre Fialho will line Barberena up for a bigger fight in the future. Not only would it be a major fight in both of their careers, it would be a reckless brawl.
Robbie Lawler (29-16, 1 NC) – former UFC welterweight champion
Dropping a TKO to Bryan Barberena has stunted the returning momentum of Robbie Lawler, but he has no hopes of slowing down. Another pay-per-view appearance later in the year for the former champ would make the most sense. A hardened veteran in his own right, I think that a rematch with Matt Brown could be an exciting affair for Lawler. Their bout from eight years ago was FOTY contender, so, why not run it back?
(#9) Pedro Munhoz (19-7, 2 NC) & (#13) Sean O'Malley (15-1, 1 NC) – UFC bantamweight contenders
An anticlimactic end to a crucial bantamweight bout left both Pedro Munhoz and Sean O'Malley disappointed. Neither man was able to deal much damage up to the point that the bout was ended due to an eye-poke, which has left fans and fighters with a bad taste in their mouths. Depending on the timeframe associated with Munhoz' recovery, a rematch likely makes most sense to be their next bouts. Better yet, schedule the rematch for five rounds.
***
How would you matchmake these fighters? Do you disagree with my picks? Let us know in the comments!
UFC 276: Adesanya vs Cannonier – Preview
Capping off International Fight Week, UFC 276 is set to be the biggest MMA card of 2022 thus far. A stacked undercard will be topped off by rising stars on the main card and a pair of title fights in the headliners.
In the main event, reigning middleweight champion Israel Adesanya is set to make his fifth title defense. Standing across from him will be power-punching top contender Jared Cannonier, looking to come up large in his first title opportunity. Will the techincal ability of Adesanya prevail or will Cannonier smash his way to a UFC title?
A highly-anticipated trilogy bout between defending featherweight champion Alexander Volkanovski and former titleholder Max Holloway will go down in the co-main event. Since their razor-thin rematch in 2020, both men have established themselves as dominant forces in the division. It's now time for them to settle the score once and for all.
Let's take a closer look at this card!
***
(c) Israel Adesanya (22-1) vs (#2) Jared Cannonier (15-5) – UFC middleweight championship bout
To continue his historic reign, the champion will have to get through one of his most dangerous challenges to date.
At 185lbs, no man has been able to solve the puzzle that is Israel Adesanya. The reigning champ has used his striking ability to pick up wins over the division's elite, including Robert Whittaker, Marvin Vettori, Paulo Costa, Yoel Romero and Derek Brunson. Though he has prefered a more reserved approach in his recent outings, opting to keep on the outside and attack the legs, Adesanya is still a dangerous finisher. His mastery of distance and range is something that will make him a stylistic challenge for Cannonier. If he's out with a point to prove, this could become a signature win for 'Stylebender'.
The career resurgence of Texas' Jared Cannonier is among the best in recent history. Having only dropped one loss in his six middleweight bouts, Cannonier brings power down from an earlier career run as a heavyweight and light-heavyweight. Since the move down to 185lbs, his smashing power has stationed him as one of the division's elite. Should he be able to land shots from inside boxing range, as he has done with Brunson and Hermansson, he could cause problems for Adesanya. A win for 'The Killa Gorilla' would be mounumental, but will have to bring his A-game to beat the champ at UFC 276.
(c) Alexander Volkanovski (24-1) vs (#1) Max Holloway (23-6) – UFC featherweight championship bout
The two very best featherweights will finally look to end their rivalry with an epic trilogy bout for the world title.
Public perception of UFC featherweight champion Alexander Volkanovski has swayed heavily since his last bout with Holloway. A pair of title defenses against Brian Ortega and Chan Sung Jung have made it clear that Australia's Volkanovski is a pound-for-pound elite, dispatching of the pair in dominant fashion. An incredibly well-rounded skillset, coupled with speed and accuracy, make him a brutal matchup for everybody in his division. A third win over Holloway could very well make 'The Great' Volkanovski the greatest of all time at 145lbs.
The only man to have truly challenged Volkanovski's title reign is former champ Max Holloway. A controversial razor-thin loss to champ in their UFC 251 saw a large amount of the fanbase believe that the Hawaiian was the superior fighter. Setting the record for significant strikes landed against Calvin Kattar and showing his levels against Yair Rodriguez has only affirmed that belief for Holloway's fans. Pace, cardio and diversity of attacks have led Holloway to become one of the most exhilirating fighters in MMA. Finally exacting his revenge on Volkanovski will only strengthen the legacy of 'Blessed'.
(#4) Sean Strickland (25-3) vs Alex Pereira (5-1) – middleweight bout
A rising Brazilian kickboxer is stepping up in competition against a relentless top talent in the UFC 276 feature bout.
To say that Sean Strickland is a divisive figure in the MMA community is an understatement. The California madman made his return to 185lbs in 2020, where his total record sits at 20-0. Though some have criticised Strickland for his lack of aggression in recent bouts, he has 10 career knockouts and a crisp boxing game that he utilises. A stinging jab and lots of lateral movement might be a tough puzzle for Pereira to get past on the night. Stealing the hype of his opponent at UFC 276 could very easily catapult 'Tarzan' into a title shot.
In only his third UFC outing, former GLORY double-champ Alex Pereira will get a top-5 opportunity in a pay-per-view feature fight. A knockout of Andreas Michailidis and hard-fought decision win of Bruno Silva proved that Pereira's kickboxing credentials made him a potential threat to the UFC middleweight division. In particular, his clinch striking and lethal left hook have been revered. His next outing will be his chance to prove that he's worthy of the hype out on him by fans. Should he and Adesanya win, the MMA meeting of those kickboxing rivals for the middleweight title is inevitable.
Robbie Lawler (29-15, 1 NC) vs Bryan Barberena (17-8) – welterweight bout
A former champion and veteran contender looking to continue their runs of form will throw down on the main card.
It's fair to say that the best days of welterweight-great Robbie Lawler are far behind him. Still, the former champion is remaining active against some of the UFC's elite. Lawler picked up his first win since 2017 against the returning Nick Diaz, where he displayed his speed and takedown defence. The heart and grit of the ex-champ is undeniable, making him a threat throughout the duration of the bout. Should he make it two straight this weekend, talks of the top 15 could be on the cards for 'Ruthless'.
Having developed of a repuatation as an action fighter since 2014, Knoxville native Bryan Barberena has been a staple of UFC welterweight division. A pair of decision wins over Darian Weeks and Matt Brown in his last two have proved that Barberena is one of the most exhilirating fighters in his weight class, displaying a blood and guts style every time out. Ten career knockouts and an underrated grappling game make this veteran a tough fight for everybody. Three on the spin for 'Bam Bam' would be his best streak in years.
(#10) Pedro Munhoz (19-7, 1 NC) vs (#13) Sean O'Malley (15-1) – bantamweight bout
One of the UFC's top prospects will try to get past his first top ten challenge in the UFC 276 main card opener.
The record of Pedro Munhoz is an example of talented fighters being hidden underneath losses. Since 2019, the Brazilian has been mainstay of elite fights, fighting a who's-who of contenders. Not only does Munhoz possess elite kickboxing, but he's also a black belt in Brazilian jiu-jitsu and a brown belt in judo. Thunderous leg kicks and heavy hands could pose a very difficult stylistic matchup for O'Malley. A major victory this weekend would reestablish 'The Young Punisher' as a force to be reckoned with at 135lbs.
Having been insistent that his fights at the top level would come when the time was right, Sean O'Malley will finally look to move into the top ten at UFC 276. The 27 year old became one of MMA's biggest stars through a blend of creative striking and unorthodox footwork, combined with his brash personality. In his career thus far, the speed of O'Malley has stifled every opponent he's faced, even in his sole loss to Marlon Vera. A win against Munhoz could be a career-defining moment for 'Suga'.
(#14) Brad Riddell (10-2) vs Jalin Turner (12-5) – lightweight bout
Explosive lightweight prospects try to move upward in the rankings in the featured prelim.
Alongside his City Kickboxing teammates on the card, New Zealand's Brad Riddell is coming to Las Vegas in hopes of redemption. His striking prowess has led him to four UFC wins, including decisions over Jamie Mullarkey and Drew Dober. In his last bout, however, he suffered his first loss inside the promotion. Still, Riddell is a top 15 talent with some of the most advanced kickboxing mechanics in the division. A rebound win against the dangerous Turner would do wonders for the title hopes of 'Quake'.
A dark horse of the lightweight division, Jalin Turner has quietly ascended up the lightweight division in the last three years. Stoppages over the likes of Uros Medic and Jamie Mullarkey have extended the California native's 100% finish rate, consisiting of nine knockouts and three submissions. UFC 276 will mark his third conesecutive pay-per-view appearance, where he's trying to get his biggest win to date. A second KO in 2022 could fast track 'The Tarantula' to contention.
Jim Miller (34-16, 1 NC) vs Donald Cerrone (36-16, 1 NC) – welterweight bout
Legends of the UFC records books will scrap in featured a bout guarenteed not to disappoint.
A quiet story on the horizon since late 2021 is the resurgence of veteran Jim Miller. Back-to-back knockouts snapped a skid and proved that the 38 year old could still pack a punch. Despite the recent strike stoppages, Miller's forte lies on the mat. The New Jersey fighter is a high-level BJJ black-belt and was an NCAA Division 1 wrestler, which has given him eighteen submission wins in his career. A path to victory through forward pressure against Cerrone is lined up for Miller, and 'A-10' will be ready to snatch a neck or a knockout.
Not dissimilar to some other fighters on the card, it looks like the end is nigh for Donald Cerrone. The former title challenger is winless since 2019 and has openly talked about retirement. Now, on short notice, Cerrone is filling in with the hopes of going out on a win. He's most certainly years removed from his fighting best, but don't be too fast to deny the veteran. His quick kicks and underrated submission game could make it a tough outing for Miller. UFC 276 is likely the last time we'll see 'Cowboy' ride into battle.
Ian Garry (9-0) vs Gabe Green (11-3) – welterweight bout
Streaking welterweights look to continue their ascent up the ladder in a prelim bout.
The third UFC appearance of Ireland's Ian Garry is set for this weekend. The young striker burst onto the big scene in late 2021, and has since taken two wins over Jordan Williams and Darian Weeks in pay-per-view showings. It's clear that the former Cage Warriors champion is a star in the making, but he'll have to get past his toughest test to date if he wants to break further into the spotlight. 'The Future' is ready for the taking for Dublin's Garry.
A road warrior for much of his short career, Gabe Green seems to finally have found his home in MMA's premier orginisation. A decision loss to Daniel Rodriguez has been the only setback in his UFC tenure, which has included two exciting wins over Philip Rowe and Yohan Lainesse. The talented Californian brings a well-rounded attack to the Octagon, including knockout power and an unbelievable chin. 'Gifted' Green is flying under the radar, but this could be a breakout showing.
(#12) Brad Tavares (19-6) vs Dricus du Plessis (16-2) – middleweight bout
South Africa's hope for a UFC title will look to crack the top 15 against a battle-tested TUF alumni.
A familiar name to many fans, Hawaii's Brad Tavares has been making his name in the promotion 2010. Tavares has gone up against the division's elite, including Israel Adesanya, Robert Whittaker and Yoel Romero. His veteran style allows him to pick up wins in closely-contested fights, using a well-rounded striking and grappling aproach. Currently riding two straight wins over Antonio Carlos Junior and Omari Akhmedov, adding another notch to the streak could line Tavares up for a higher-ranked fight.
Hailing from South Africa after a career in KSW and EFC, Dricus du Plessis has captured the imagination of fans already. The hard-hitter has punched his way to UFC wins over Markus Perez and Trevin Giles in his first two appearances. Four unfortanuate cancellations have kept du Plessis on the sidelines since summer 2021. Eager to return to form and earn his ranking, 'Stillknocks' will be out to make a point on the UFC 276 prelims.
(#9) Uriah Hall (18-10) vs (#13) Andre Muniz (22-4) – middleweight bout
A middleweight mainstay will look to defend his top-10 spot against a submission-savvy prospect.
At 37 years of age, nobody is expecting a title run from TUF alumni Uriah Hall. The perennial contender, still, has been racking up wins without too many losses in recent years. His four-fight win-streak was snapped in a lackluster showing against Sean Strickland in his last outing, but Hall remains one of the most experienced fighters at the highest level. His flashy striking has become more reserved and methodical, which has shown decent results. A victory over Muniz at UFC 276 would be massive for the career of 'Prime Time'.
Still searching for his breakout performance, Andre Muniz has already made a name for himself as a serious threat to the middleweight division. The jiu-jitsu ace has scored four UFC wins so far, including a SOTY contender over the legendary 'Jacare' Souza. Not only does Muniz have submissions, however. He's also an experienced Muay Thai practitioner, with four knockout wins in his career. A fourth submission will skyrocket 'Sergipano' to title conversations, should he be able to get it.
(#12) Jessica Eye (15-10, 1 NC) vs (#14) Maycee Barber (10-2) – flyweight bout
Two of flyweight's finest trying to make it to the title contention will collide in a prelim bout.
Following her title shot agaisnt Valentina Shevchenko, long-time contender Jessica Eye has fallen on hard times. 1-3 in her last four, Eye has regressed from title contention, though she has remained competitive. Her hand speed and wrestling ability make her a multi-faceted attack for those she faces. A major win for Eye at UFC 276 would revitilised her chances at a second title run.
The stock of Maycee Barber may have dropped slightly since her initial streak, but the 24 year old remains as one of the brightest stars at 125lbs. The DWCS alumni enters UFC 276 on two-straight victories over Miranda Maverick and Montana De La Rosa. Now training at Team Alpha Male, Barber is planning to add a strong wrestling game to her black-belt karate. Adding a third win to her streak will put 'The Future' into motion at flyweight.
***
Who are you picking this weekend? Who will be the champions as of Sunday morning? Let us know in the comments!
Featherweights Headline Combate Global's Five-Fight Event, July 1
Featherweights (145 pounds) collide in the main event, undefeated Mexican phenom Ramiro "El Cachanilla" Jimenez (5-0) will make his long-awaited return to La Jaula, the Combate Global competition cage, and face off with American submission expert Devante Sewell (9-7).
 
The 23-year-old Jimenez of Mexicali, B.C. will enter La Jaula for the first time since May 14, 2021 when he sustained a hand injury en route to a quick, first round (1:07) TKO (ground and pound) of Michael Rodriguez. To date, Jimenez, who was also unbeaten as an amateur competitor before beginning his perfect run as a professional, has notched all but one of his wins via (T)KO or submission.
 
Sewell is a 26-year-old resident of Villa Rica, Ga. He holds a brown belt in Brazilian Jiu-Jitsu and has earned 6 of his 9 professional career wins via submission. Prior to turning professional, Sewell began competing at the age of 18 on the amateur circuit, where he reeled off an impressive 8-2 record.
 
In a women's atomweight (105 pounds) co-main event attraction, Mexican star Ana "La Guerrera" Palacios (6-1-1) will face a brand new test in Korean champion Bo Hyun Park (4-1).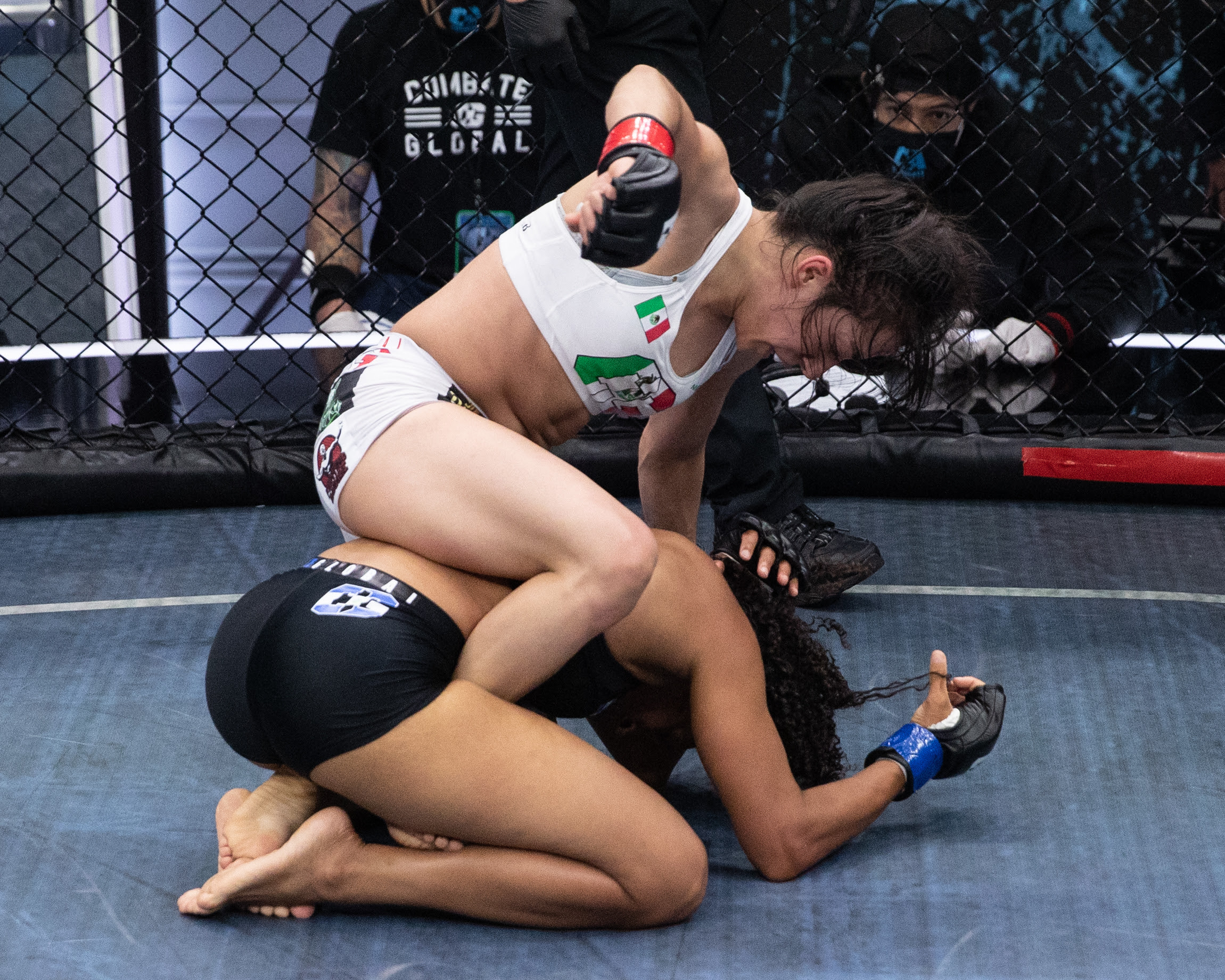 Above: Mexico's Ana Palacios (top) will look to advance her winning streak to three straight fights on July 1.
Palacios is a 23-year-old native of Mexico City where she is a member of the fast-growing Bonebreakers MMA team that is also home to reigning Combate Global World Bantamweight Champion David "The Black Spartan" Martinez.
 
Palacios will look for her third straight win in what will be her first start of 2022, after a pair of strong performances in 2021.  In her last effort, Palacios submitted Chile's Gloria Bravos with a keylock in the second round (1:24) of battle.
 
Also 23 years of age, Palacios' opponent, Park, hails from Seoul and is a reigning atomweight champion in South Korea. Park is an aggressive striker, who likes exchanging punches and kicks with opponents, but is also well-versed on the ground, as evidenced by her last two bouts, each of which she finished with a rear-naked choke submission.
 
A featured bantamweight (135 pounds) tilt will pit Joey "El Cazador" Ruquet (7-4) of Miami, Fla. against Joe Murphy (8-5) of Huntington Beach, Calif.
 
The preliminary bout card will be topped by the return of 2021 "COPA COMBATE" competitor Carlos Briseño (13-3) of Mexico City.  Briseño will square off with Andrew Whitney (16-10) of Miami.
 
In a women's strawweight (115 pounds) affair, hard-hitting Naomi Tataroglu (3-3) of Oranjestad, Aruba will battle Andrea "Fortaleza" Soraluz (3-4) of Lima, Peru via Sunrise, Fla.
Paramount+ coverage will begin with a Combate Global pre-show at 10:30 p.m. ET/9:30 p.m. CT, and will continue with the fight action, beginning at 11:00 p.m. ET/10:00 p.m. CT.