Robert Whiteford speaks on the difference between the UFC & Bellator ahead of his Bellator 267 fight
Rob "The Hammer" Whiteford (16-4-0) is as honest as they come and is not afraid to speak his mind. He gave his thoughts on fighting for Bellator at a recent media day, something he has only had the opportunity to do once due to the global pandemic. He returns to the cage opposite Andrew Fisher at Bellator 267 this evening.
"I hope I've found a home in Bellator….I've only fought once for them this the second on Friday night. They seem to have treated me really well, nothing to complain about so if all goes to I'd like to finish my career at Bellator. I think I have two more fights with Bellator(…) see this one out and sign another contract with Bellator. Hopefully they bring Bellator to Scotland."
When asked to compare working with Bellator vs. working with the UFC he had this to say.
"You ever see how when you were young you had two aunties, or two grans? You went to one that real strict and controlled everything you done and you went to the other and they let you do what the f*ck you want. That's what it seems like with Bellator, I get to do what the f*ck I want. They treat me well, I fight, I go home. That's it, end of story."
Whiteford discussed the idea of comparing organizations, but at the end of the day there are dangerous fighters everywhere and not just in the UFC. The fighters skills speak for themselves, a brand name does not change their level.
"There's tough competition in Bellator. People like to compare organizations to other organizations but every organizations have dangerous guys right through it so you be the judge of what level I'm at."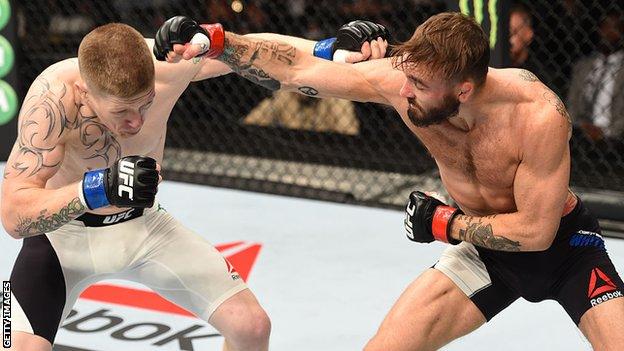 He will fight Fisher at Bellator 267, and Whiteford says that his opponent has some interesting insight into who the Scotsman is as a fighter and how he moves.
"Strangely enough he's cornered a few times against me, so he probably knows more about me than I do about him. You can watch someone on television or you can watch them from the crowd. You don't really get a good picture of them until you're either in there with them or your part of corner team, you're against the fighter."
The COVID-19 pandemic hit in 2019 (and you know the rest) and Whiteford had to put competing on hold
"I've had time out competing but I've not had time out training, that's my life, that's my lifestyle."
He cites longtime training partner Chris Duncan (7-0-0) as one of his main source of inspiration to continue training hard during lockdown.
"The last six or seven years he's never let me down once. When I was younger coming up I was that guy chasing the older guys, you felt like you could never let them down. I've not really got a choice if I want to go to training or not. I can't let him down…I make myself accountable. (…) its not something I choose to dip my toe in and out of."
Whiteford also had to put his regular visits to his home away from home, American Top Team (ATT), on the back burner.
"I've had to do it back here in Scotland. It's the first time in six or seven years that I haven't had a camp over there but again I know I'm confident in my abilities and when I turn up fight night all I need to do is perform to the abilities. So it wouldn't really matter where I train. I suppose its much better if I'm training away from home in the sun (Florida) surrounded by world class facilities. (…) I've been here, I've been at my local boxing club, I've been at my local MMA club back in Scotland. Basically back to my roots."
Bellator 267- Lima vs MVP is getting underway Friday Oct 1st at the Wembley Arena in London, England. Prelims start at 12:30pm (ET).
Sumo: Kyushu Tournament Day 14 – Can Terunofuji seal the championship?
The penultimate day of the Kyushu tournament gives Terunofuji the chance to take glory as the 13-0 wrestler takes on his nearest challenger Abi who is on 12-1.
Before we dive into day 14, lets see how the leaderboard has developed since the last article. Abi faced Takakeisho yesterday in a battle between two wrestlers with 11-1 records. The former won the battle to move on to 12-1 in his first top division appearance since his suspension. Takakeisho moved to 11-2 and only has an outside chance of being involved in a playoff. Ura, in fourth place and the only other man to hit double figures so far, has no chance of winning the tournament as he sits on 10-3. Here is the top of the table at the end of day 13;
Terunofuji (Y) 13-0
Abi (M15) 12-1
Takakeisho (O) 11-2
Ura (M7) 10-3
Day 14
Day 14 promises to be full of action and drama as the top two men, Terunofuji and Abi finally face each other. If Terunofuji wins it, then he will take the tournament victory with an uncatchable 14 wins. 9 fighters on 7 defeats will be looking to avoid a losing record and both Endo and Chiyoshoma were looking to secure their winning records. Let's see what went down on the penultimate day of the last tournament of the year.
It was an intense matchup between Yokozuna Terunofuji and Abi. Abi used his pushing and thrusting technique to great effect to back Terunofuji against the rope, but the big Yokozuna held on and managed to fend off the attack, finishing Abi with an oshitaoshi. Terunofuji moves to 14-0 and HE IS THE KYUSHU TOURNAMENT CHAMPION. He wins his 6th title, can he go 15-0 for the first time? It's hard to see any other result.
Such is the nature of a league-style tournament like this, at day 14 there are quite a few dead-rubber matches. Lots of wrestlers have already confirmed winning or losing records and are fighting for pride alone. However, aside from the championship race, there was still a lot to play for on the dohyo.
There was a showdown between the two Ozeki ranked fighters, Shodai and Takakeisho. Until yesterday's defeat to Abi, Takakeisho was in with a chance of the title win. The disappointment of defeat didn't seem to affect him though, as he beat Ozeki Shodai with ease. Shodai is not fighting like an Ozeki of late but is continuing to achieve winning records to maintain his rank. Can Takakeisho make another run on the Yokozuna rank in 2022?
Chiyoshoma produced a nice uwatenage finish to achieve winning record against Yutakayama. Out of all the wrestlers on 7 defeats, only Okinoumi and Yutakama confirmed their losing records, with their defeats to Ishiura and Chiyoshoma. It means there are many fighters left on 7-7 records, and so there it lots to play for on the final day.
Takanosho, Hokutofuji and Mitakeumi all managed to achieve double figures as they each improved their records to 10-4. Ura, who had a 10-3 record going into day 14, was defeated by Meisei and is the fourth man on 10-4. Both Komosubis were defeated as Ichinojo went down to Hokutofuji and Kiribayama to the young star Hoshoryu.
Full Results
Winners in italics, record after day 14 shown
Keisei (M17e) 7-7 vs Chiyonokuni (M14w) 8-6 – Oshidashi
Kotonowaka (M11e) 6-8 vs Tochinoshin (M13w) 6-5-3 – Yorikiri
Akua (M16e) 8-6 vs Terutsuyoshi (M11w) 6-8 – Shitatenage
Chiyotairyu (M10e) 6-8 vs Shohozan (M17w) 3-11 – Tsukidashi
Aoiyama (M9e) 4-10 vs Chiyomaru (M15e) 7-7 – Hatakikomi
Sadanoumi (M16w) 8-6 vs Tobizaru (M8w) 7-7 – Hikiotoshi
Yutakayama (M13e) 6-8 vs Chiyoshoma (M7w) 8-6 – Uwatenage
Shimanoumi (M6e) 5-9 vs Kagayaki (M14e) 4-10 – Tsukidashi
Takarafuji (M4e) 5-9 vs Kotoeko (M8e) 3-11 – Oshidashi
Okinoumi (M3e) 6-8 vs Ishiura (M12e) 7-7 – Yorikiri
Onosho (M2e) 5-9 vs Myogiryu (M3w) 2-12 – Hatakikomi
Hidenoumi (M9w) 8-6 vs Takanosho (M2w) 10-4 – Yorikiri
Daieisho (M1e) 7-7 vs Takayasu (M5e) 5-9 – Tsukiotoshi
Endo (M4w) 7-7 vs Wakatakakage (M1w) 7-7 – Yorikiri
Ichinojo (Ke) 5-9 vs Hokutofuji (M12w) 10-4 – Tsukiotoshi
Hoshoryu (M5w) 6-8 vs Kiribayama (Kw) 5-9 – Yorikiri
Mitakeumi (Se) 10-4 vs Tamawashi (M6w) 9-5 – Hatakikomi
Ura (M7e) 10-4 vs Meisei (Sw) 6-8 – Oshidashi
Shodai (Oe) 9-5 vs Takakeisho (Ow) 12-2 – Tsukidashi
Terunofuji (Ye) 14-0 vs Abi (M15w) 12-2 – Oshitaoshi
Watch the matches from today here. Find the VMTV Sumo Guide here. Stay with us to find out what happens on day 15!
ONE: NEXTGEN III Final Weight and Hydration Results
ONE Championship™ (ONE) today released the ONE: NEXTGEN III Final Weight and Hydration Results. In todays event, former UFC athlete Jarred Brooks squares off against Lito Adiwang in a highly anticipated strawweight match-up which could see the victor earn a spot in the divisional rankings. A Bantamweight Muay Thai bout between Alaverdi Ramazanov and Pongsiri PK.Saenchai Muaythaigym will take place as the co-main event.
ONE: NEXTGEN III Final Weight and Hydration Results
Mixed Martial Arts – Strawweight (52.3 KG – 56.7 KG)
Lito Adiwang (56.70 KG, 1.0053) vs. Jarred Brooks (56.00 KG, 1.0027)
Muay Thai – Bantamweight (61.3 KG – 65.8 KG)
Alaverdi Ramazanov (65.55 KG, 1.0207) vs. Pongsiri PK.Saenchai Muaythaigym (65.80 KG, 1.0244)
Mixed Martial Arts – Strawweight (52.3 KG – 56.7 KG)
Alex Silva (56.70 KG, 1.0103) vs. Rene Catalan (56.60 KG, 1.0066)
Kickboxing – Flyweight (56.8 KG – 61.2 KG)
Panpayak Jitmuangnon (61.20 KG, 1.0160) vs. Daniel Puertas (61.20 KG, 1.0168)
Mixed Martial Arts – Lightweight (70.4 KG – 77.1 KG)
Pieter Buist (77.10 KG, 1.0222) vs. Ruslan Emilbek Uulu (76.40 KG, 1.0070)
Kickboxing – Bantamweight (61.3 KG – 65.8 KG)
Felipe Lobo (65.60 KG, 1.0156) vs. Rodlek PK.Saenchai Muaythaigym (65.80 KG, 1.0078)
Hydration values less than or equal to 1.0250 earn a passing mark, while values greater than or equal to 1.0251 earn a failing mark. Athletes who failed weight and hydration tests on Day 1 or Day 2 are given another chance to clear tests on the morning of the event.
Sumo: Kyushu Day 11 of 15 – who will take glory?
Kyushu Day 11, Fukuoka, Japan. The Kyushu tournament heads into day 11 of 15 and we are two-thirds through. Who is going to take the tournament victory?
The story so far
Yokozuna Terunofuji is the only undefeated wrestler left after Takakeisho was defeated by Meisei on day 10. Abi got back to winning ways and joins Takakeisho sitting on 9-1. Whatever happens, Abi is in for a huge surge up the ranks for the first 2022 tournament in January. It looks very likely that the winner of the tournament will come from one of these three rikishi, but Mitakeumi and Ura are among four wrestlers who have an outside chance currently holding 8-2 records. Here are the leaders going into day 11;
Terunofuji (Y) 10-0
Takakeisho (O) 9-1
Abi (M15) 9-1
Mitakeumi (S) 8-2
Tamawashi (M6) 8-2
Ura (M7) 8-2
Hokutofuji (M12) 8-2
All of the above wrestlers in the Maegashira rank have also confirmed a winning record for this tournament and can expect to move up the rankings for the next tournament. Myogiryu, Kotoeko and Shohozan already have 8 defeats and can no longer post a winning record. Shohozan will likely be demoted for the next tournament.
Day 11
Such are the records after day 10, no rikishi can achieve a guaranteed winning record as none of them currently sit on 7 wins. However, there are seven wrestlers including Komosubi Kiribayama and high-ranking Maegashira Daieisho and Wakatakakage are in danger of securing a losing record and moving down in the rankings for next tournament.
Terunofuji was put to the test by Ichinojo who managed to find some fighting spirit. After a long and hard battle, Terunofuji came through with the victory and extended his run to 11-0 to continue leading the tournament by 1.
Abi faced Ura in a highly-anticipated matchup between two of the most exciting rikishi in the sport. It was a quick affair in the end as Abi continued his fine form on his return to the top division. The M15 ranked fighter moves to 10-1, Ura moves to 8-3, his winning record already confirmed. Ozeki Takakeisho joins Abi on 10-1 after seeing off a spirited effort from Endo.
Kiribayama again managed to hold off the losing record with an impressive liftout victory against Myogiryu. Kiribayama remains on 7 defeats for another day, after going 0-6 from the start it would be an incredible feat to end up with a winning record.
Aoiyama continued his poor form, after winning the first 3 matches, he has now lost 8 in a row. Maegashira ranked Hokutofuji and Tamawashi both moved to 9-2 records alongside Sekiwake Mitakeumi.
An exciting battle between two of the smaller wrestlers saw hot prospect Hoshoryu overcome the flying monkey Tobizaru.
Elsewhere, there were wins for Ozeki Shodai over Sekiwake Meisei, and former tournament winner Daieisho against Onosho. To watch the matches from Kyushu Day 11, click here (all credit to NattoSumo and NHK). For a guide to Sumo and some of the words used, click here. See the full list of results from Day 11 below.
Full Results
Winners in italics, record shown after day 11
Chiyomaru (M15e) 5-6 vs Hokutofuji (M12w) 9-2 – Okuridashi
Ishiura (M12e) 5-6 vs Sadanoumi (M16w) 7-4 – Yoritaoshi
Kagayaki (M14e) 3-8 vs Terutsuyoshi (M11w) 5-6 – Oshidashi
Kotonowaka (M11e) 4-7 vs Akua (M16e) 6-5 – Yoritaoshi
Kaisei (M17e) 5-6 vs Hidenoumi (M9w) 6-5 – Yorikiri
Aoiyama (M9e) 3-8 vs Chiyonokuni (M14w) 6-5 – Tsukitaoshi
Kotoeko (M8e) 2-9 vs Shohozan (M17w) 3-8 – Yorikiri
Tochinoshin (M13w) 4-4-3 vs Chiyoshoma (M7w) 6-5 – Yorikiri
Ura (M7e) 8-3 vs Abi (M15w) 10-1 – Tsukitaoshi
Chiyotairyu (M10e) 5-6 vs Tamawashi (M6w) 9-2 – Tsukiotoshi
Shimanoumi (M6e) 5-6 vs Yutakayama (M13e) 4-7 – Oshidashi
Tobizaru (M8w) 5-6 vs Hoshoryu (M5w) 5-6 – Yorikiri
Takarafuji (M4e) 4-7 vs Takanosho (M2w) 7-4 – Yorikiri
Okinoumi (M3e) 4-7 vs Wakatakakage (M1w) 4-7 – Hikiotoshi
Daieisho (M1e) 4-7 vs Onosho (M2e) 4-7 – Hatakikomi
Myogiryu (M3w) 2-9 vs Kiribayama (Kw) 4-7 – Tsuridashi
Mitakeumi (Se) 9-2 vs Takayasu (M5e) 5-6 – Yorikiri
Endo (M4w) 5-6 vs Takakeisho (Ow) 10-1 – Oshidashi
Shodai (Oe) 7-4 vs Meisei (Sw) 5-6 – Yorikiri
Terunofuji (Ye) 11-0 vs Ichinojo (Ke) 4-7 – Yoritaoshi
Stick with VMTV to see how the rest of the tournament plays out!